0.9.12 has landed!
Sun, 2009-10-18 17:07 — Uriah
0.9.12 Released
well folks, 0.9.12 is finally here.
Grab it on our downloads page here
This release doesn't include everything we had planned, and some noteable things are missing. But we decided to push forwards the release due to Hedgewars being included on a coverdisk on a big computer magazine.

That said, there is an awful lot new in 0.9.12, I won't list everything, (you can always review SVN activity for a complete changelog) but the main features are as follows.
+ Control pad support
+ New weapons: flying saucer, molotov cocktail
+ More sounds
+ New visual effects
+ Updated graphics
+ Team chat
+ Remember net password
+ More training modes, including a fun RC plane game
+ Implement room control delegation when host's connection fails
+ Colorize chat events in engine
+ Frontend improvements
+ New maps
+ New theme
+ and more :)
+Zoom - This is one of the biggest features in the new release, you can now dynamically zoom in and out of the battlefield using (by default) the mousewheel.
If you have any teams from previous versions of the game you may need to update their controls to apply zoom settings.
Middle mouse resets your zoom by default.
* Fix crash in replay caused by speechbubbles
* Fix some desync causes
* Fix rope bugs
* Fix bugs in weapon selection code

We want to thank everyone who helped out with 0.9.12, the community (as usual) has been great. We hope you enjoy the release, send it to your friends, your family, your wife, your bit on the side, everyone! And we look forwards to seeing you on the server.
Let us know what you think of the release on our forums
And just to let you know we now have a twitter and facebook page,
so sign up and let the word spread! :)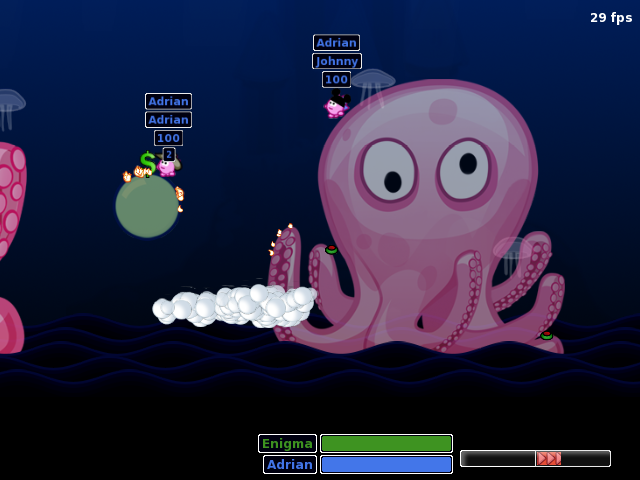 Yoooooooooouuuuuuuuuuuuuu, your sex is on fireeeeeeeeeeeeeeeeee