Sun, 2015-11-15 15:14 — antonc27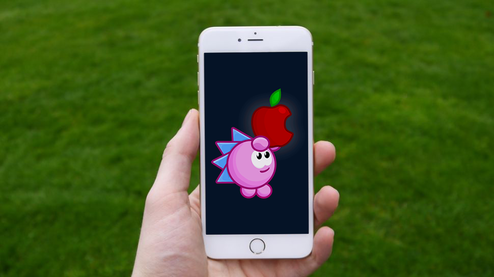 I'm proud to announce hilarious return of Hedgewars to the AppStore !
Quick, quick, it's time to checkout completely free version of Hedgewars iOS 2.0 here:
P.S. Don't forget to give us 5 stars and positive review

Tue, 2015-11-03 19:34 — Wuzzy
Hedgewars 0.9.22 has been released!
Get it from the Download page.
This release features a new weapon or map object, the air mine.
This is a floating proximity bomb which will float around and follows hedgehogs who are careless to stand nearby it. Once close enough, the air mine timer starts, after which the air mine will explode. The explosion is weaker than of regular mines, but this is enough to lose a turn and annoy your enemy to death.

The air mine can appear as land object (like regular mines) or be fired.
---
New features:

New Weapon / Map object: air mine

Various tweaks to the interface and in-game chat (See here)

Extensive changes to TechRacer

: Variable terrain types, enhanced parameters, hwmap interpreter, fuel limiter, etc.
Added 6 TechRacer maps
Added 3 Speed Shoppa challenges (missions in which you must collect all crates as fast as possible): Shoppa Love, Ropes and Crates, The Customer is King
Added 24 new flags, replaced 1 existing flag
Improved "Art" theme (See here)
Map complexity in the "Tunnels" style can be adjusted by using the map slider
Maze size in the "DiagonalMaze" style can be adjusted by using the map slider
Added default Sudden Death background music
New script (primarily for developers): HedgeEditor
Gameplay tweaks:

Hammer now does more damage (50% instead of 1 third) when the Extra Damage utility is used
Hammer damage is now rounded up. This means it can be used to execute hedgehogs with only 1 HP
Melon bomb pieces, air strike bombs and a couple of other things now bounce on rubber
Bugfixes / minor weaks:

Fixed the bad rubber shape

TechRacer maps now have proper previews (and they show checkpoints, too)
Game modifier "Divided teams" will now just be ignored when using more or less than 2 teams or clans, instead of displaying a fatal error
Fixed: Wind indicator being wrong in certain situations
Reduced main menu music volume
The game will now fall back to the default voicepack if a team's voicepack is not locally installed (instead of rendering the team voiceless)
Generated bridges/girders are now connected better to the land mass
Many other bug fixes
Here is the full changelog (includes changes to the Lua API):
ChangeLog.txt
Thu, 2015-08-06 03:28 — mikade

:D
Hey, hogs! I thought I'd update you with something I think is finally functional enough to be included in the upcoming .22 release. If you can bear my terrible, raspy voice and strange accent, check it out!
Otherwise, if words are more your thing, feel free to go read the wiki article I've started to work on here -> HedgeEditor.
Tue, 2015-07-28 00:50 — Star and Moon
Another long break, but the Hedgewars PAotH comics are back, for now! Catch up on earlier comics here: http://www.hedgewars.org/comic
106:


107:


108:


109:


110:

Hopefully this time I won't take another long hiatus. ;)
Tue, 2015-07-21 09:03 — sheepluva